---
Ari Noble (he/they) is a story editor, writer, and musician who has been telling stories for over a decade. Inspired by the captivating tales of his youth, such as Jeff Smith's Bone, and Philip Pullman's His Dark Materials, Ari's work is characterized by his love for emotional storytelling combined with a fascination for complex characterization and worldbuilding.Along with his work in music, Ari also writes for the webcomics Mothorial and Tamberlane, all while serving as a story consultant on multiple other webcomics. In addition to story editing, Ari currently co-hosts Yes Androgyny, a queer podcast about identity and improv, with his childhood best friend Charlie Monroe. Storytelling is Ari's passion, and he enjoys finding new and interesting ways of combining various forms of art to best tell those stories, whether it's through film, art, writing, music, or a combination of them all. He is also a massive fan of both horror and animation, and aspires to showcase the potential of these often misunderstood forms of expression in his work.As a nonbinary, asexual artist, Ari strives to be an advocate for the LGBTQIA+ community. He lives in North Carolina, spending time with his beloved friends and his feisty felines, Charlie, Bambi, and Holly.
Currently available for freelance story editing and comic writing work.
Tamberlane
by Caytlin Vilbrandt and Ari NobleThe animal citizens of Treehollow have discovered a small, strange creature wandering alone in the forest: a human child! And they have no idea what it is. Clearly much too young to be on her own, it's anyone's guess how this mysterious being, named Tamberlane, ended up in their town of Treehollow.Fostered by Belfry, the accident-prone bat, and guided by a colorful cast of animal characters, Tamberlane's mysteries continue to unfold. But questions burn in everyone's minds: who, and what, is she? And could she have something to do with the far-off and unspeakable taboo, Abroad?An emotionally complex story, Tamberlane is also dedicated to featuring queer characters having adventures that have nothing whatsoever to do with the trials and tribulations of their identity.
"There's a sharp edge hidden in the idyllic, watercolor looks of Tamberlane. At first glance, the reader might think they've stumbled into the Hundred Acre Wood, but beyond the foliage cover, there lies a world of fraught social politics, compelling characters struggling with the complex threads of their relationships, and the shadows of some underlying darkness. A relatable and emotionally riveting tale is unfolding here."
— Tracy Butler, of Lackadaisy
Tales from Treehollow
by Ari Noble et alTales from Treehollow is a series of short comics and novellas set in the Tamberlane universe! Ari served as the writer on every story and collaborated with various guest artist for illustration and comic work.Guest artists include Dana Simpson (Pheobe and Her Unicorn), Knack Whittle (The Hills of Estrella Roja), Isabel Pereira (Mothorial, Far-Fetched), Elle Pierre (Twins, Shiny Misfits) and more!
---
Mothorial
Art by Isabel "Izzy" PereiraIn the fantastical world of Mothorial, remnants of The Last War are beginning to wake, and firelight tales whisper of a nameless evil in the world beneath the world.Tired of her life in the sleepy town of Mosswood, Ava, a spunky and adventurous fruit bat, wants nothing more than to venture out across Mothorial and make a name for herself. Her caretaker, the nervous homebody and librarian goose-pheasant Ackerley, has sheltered her from the outside world and a troubled life that is slowly catching up with him.But nothing stays hidden forever, and soon Ava and Ackerley are cast out into a land of adventure, danger, love, and loss, where folklore comes to sinister life, heroes are forged in the most unexpected places, and the scars of the past never sleep for long. As they barrel ever closer to a destiny they could never have imagined, they will discover the truth of their own mysterious pasts and face a darkness—and a secret—older than the universe itself.
★ Story Editing Rates & Services ★
Due to the varying levels of commitment and attention to detail each project I take on may require, these prices are subject to change based on project scope and my availability. For any BIPOC, trans, or nonbinary creators considering my services, I would like to offer a varying discount depending on the project. If you would like to get in contact about editing services please click the button below and fill out the contact form. Thank you!
Here are some videos to get you started!
---
Story Editing
I'll work with you to develop your story, identify and address areas of difficulty, and help bring your characters and plot to their fullest potential!$200 for 3 meetings (60 mins each)
$50 per additional meeting
*This service constitutes discussions and development of your story, as opposed to editing your script or prose. For script editing services, see Script Evaluation.
Script Evaluation
I'll review, annotate, and evaluate your comic or film script!Single Issues (22-27pgs): $175
Webcomics | OGNs: $6/pg or EP
Film Script: $6/pg
*This service constitutes an annotated review of your script, email feedback, and an optional follow-up consultation. Email for prices of additional evaluation and consultation.
Manuscript Critique and Developmental Editing
I'll review your full prose manuscript and address plot structure, character development, and craft!$0.015 per word
*This service constitutes an annotated review, email feedback, and an optional follow-up consultation. Email for prices of additional evaluation and consultation.
Copy and Line Editing
I'll review your full prose manuscript for style and technical edits!$0.010 per word
*Email to discuss what type of editing is needed. Your manuscript should undergo proper evaluation and developmental edits beforehand.
---
★ Songwriting Services ★
Lyric Writing and Editing
Got a melody but can't find the words you're looking for? Need help touching up your own lyrics? I've got over 10 years of songwriting experience and I'm ready to help!$150 per lyric composition
*This service constitutes a detailed review of your lyrics or song concept, a document with new/updated lyrics, and one review consultation for any necessary corrections or alterations.
Song Composition/Demo
I've been writing songs, both for myself and for other performers and projects, for over a decade, and I'm ready to help you bring your song concept to life! All you need is an idea: I'll do the rest!$300 per song composition
*This service constitutes initial meeting to discuss song goals and requirements, original lyrics and melody, correspondence to review song development, and piano/vocal demos. Optional MIDI at additional price. Song production not included.
Under the online moniker Metajoker, Ari has composed dozens of original songs inspired by media he loves, most notably My Little Pony: Friendship is Magic.He has been performing music across the United States since 2012, and currently develops original music and scores for several New 32 Productions projects, as well as his own discography.Ari also co-hosts Yes Androgyny, a queer podcast about identity and improv, with his childhood best friend Charlie Monroe.
---
Treehollow Talks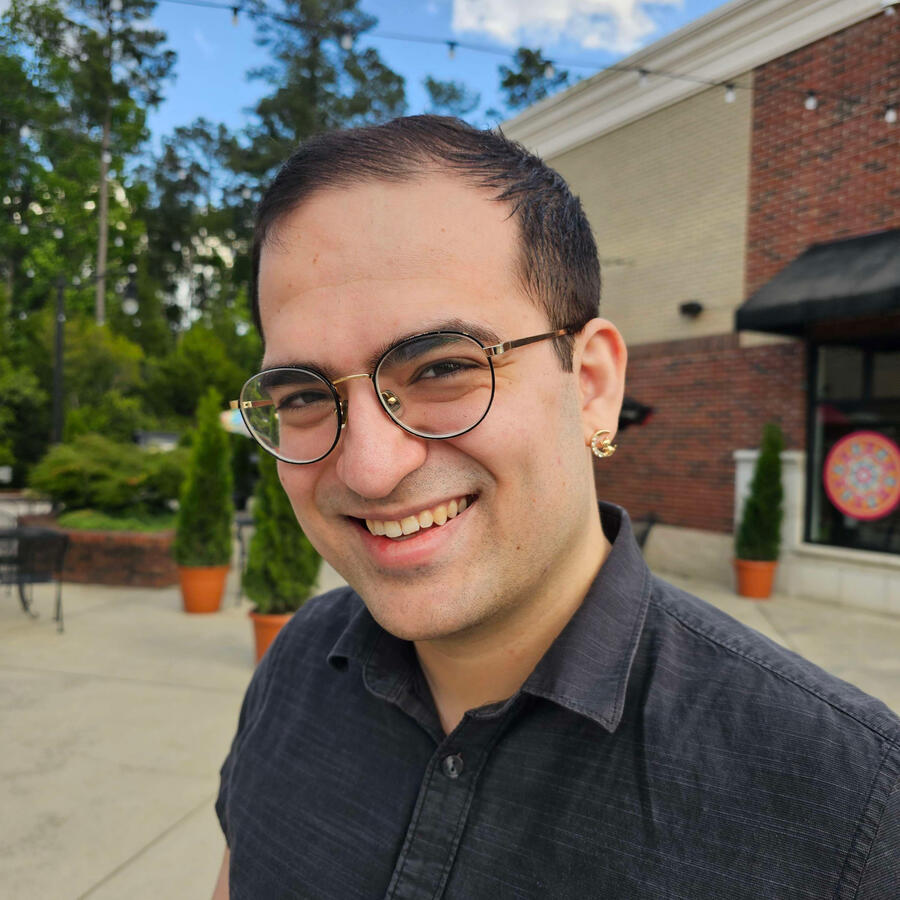 Treehollow Talks is a series of livestreams organized by Caytlin Vilbrant and Ari to discuss elements of storytelling in a fun and interactive environment. Ari plays video games related to the topic of the week while Caytlin works on art.Watch past recordings here!
Creative Writer/Editor ready to take on varied and diverse writing projects. Eye for detail and passion for crafting stories. Equally skilled at delivering technical whitepapers and promotional ad copy. Known for fulfilling duties typically assigned to several writers and editors. Keen to take ownership of brand identity initiatives and customer outreach efforts. Organized and dependable candidate successful at managing multiple priorities with a positive attitude. Willingness to take on added responsibilities to meet team goals.
---
Professional Experience
May 2021 - Present
Composer, Web Content Producer
New 32 Productions, Hillsborough, NC
Janary 2021 - Present
Story Editor, Writer, Web Content Producer, Manager
Freelance
May 2021 - December 2022
Producer
New 32 Productions, Hillsborough, NC
November 2020 - Present
Web Content Producer
New 32 Productions, Hillsborough, NC
Customized brand message to reach and capture target audience interest and drive engagement.

Managed competing deadlines with efficiency.

Coordinated with producers and on-air talent to create program content, new ideas, and segments.

Liaised with directors, actors and other creative staff to successfully complete projects.

Reviewed scripts to determine most appropriate methods to use for directing both actors and crew members.

Booked guests for on-air interviews and assigned stories to reporters to manage coverage andschedule needs.
September 2016 - March 2020
Copywriter
Carolina Partners in Mental Healthcare, Durham, NC
Wrote advertising copy for online content, adhering to employers' overarching brand identity and personality.

Monitored performance of copywriting campaignsand analyzed data to identify areas of improvement.

Researched industry trends and customer preferences to inform copywriting efforts.

Conducted research to identify audience demographics, incorporating collected data into future copy.

Reviewed and edited final copy for accuracy and to correct grammar errors. Formatted copy to align with project-specific guidelines.
February 2014 - September 2016
Data Entry Specialist | Video Producer
Pro-ficiency, Hillsborough, NC
Reviewed and updated client correspondence files and database information to maintain accurate records.

Corrected data entry errors to prevent later issues such as duplication or data degradation.

Completed data entry tasks with accuracy and efficiency.

Managed and coordinated post-production video editing, motion graphics design, compositing and quality assurance reviewing.

Liaised between departments to create and execute elements for programming.

Streamlined processes to minimize production delays and achieve intended strategy.
---
Skills
Adobe Photoshop, Illustrator, and Premiere Pro Mastery

Marketing Communications

Editing and review

Copywriting

Creative writing

Research

Brand messaging

Editing proficiency

Digital video production process

Content Development